SOS CIO wants people to understand how to tackle the climate emergency by "Learning to Live Well for the planet".
This is how much time we have left to achieve Net Zero emissions:
OUR FOCUS
We provide education approved by the Carbon Literacy Project. The workshops help you buy, travel, eat, use energy, build, and plant well for the planet. You will change your lifestyle away from dependence on harmful fossil fuels to one that ensures the future of our planet. It will also save you money.
The Carbon Literacy Project are committed to bring about change through understanding. People who come on our courses can get a certificate of their "literacy". You have to prove your understanding, and make pledges to reduce your own and a group's impact on the environment. The education means you will also have the confidence to help others change their lifestyles.
Our driving passion is to improve the lives of our children, and grandchildren on a planet that still works for them.
Herbert Spencer, an English philosopher, who talked about the survival of the fittest said "the great aim of education is not knowledge but action".
THE FACTS
Human beings have had the capacity to destroy our planet. Human beings must now take action to save it. We must stop it from becoming another barren rock circling the sun.
Let's start with the facts. See this video from BBC TV by David Attenborough to understand why there is an emergency and what we must do about it together.
We face a climate emergency – the facts
Shropshire is one of many counties committed to preventing disasters happening here and in the rest of the world. However, we see that this will only become reality if the 200,000 households in Shropshire take action to live carbon neutral lives.
BEHAVIOUR CHANGE
The actions we need to take require a huge behaviour change. We need to change the source of energy we use, drive less in electric cars and buses. We need to change what we eat. We need to insulate our homes better. We need to reduce the amount of air travel we make. Businesses need to change their products, the way they work and how they buy. Farmers need to change farming practices.

"We are at a unique stage in our history. Never before have we had such an awareness of what we are doing to the planet, and never before have we had the power to do something about that. Surely we all have a responsibility to care for our Blue Planet. The future of humanity and indeed, all life on earth, now depends on us." David Attenborough.
We need to change because the human-made release of carbon dioxide and other harmful gases has caused global warming. This has meant the climate has rapidly changed over the years, and has visibly led to floods, famine and fires. These changes threaten the future of the life of people and animals on the planet.
SAVE OUR SHROPSHIRE WORKSHOPS
We run three courses – one for local authority leaders, one for town/parish councillors and one for householders. A complete suite. More will follow. They are designed to help towns and parishes to cascade understanding and action through the county. Come to them to help take action to prevent the climate emergency. You could also save money!
WHY EDUCATION ?
Human beings change habits slowly, and only if they think it is good for them. Losing weight is good. Losing weight is easy. Just eat less and exercise more. And yet, so many people find it difficult to do so.
Change happens because of two ingredients – knowledge and enthusiasm. Once we know and understand why what we do today is bad, we will then move on to being positive and enthusiastic about changing our ways of life. We will then take action. Education is the key ingredient for change. The following statement is a great "Chinese Proverb" that summarises the need for education.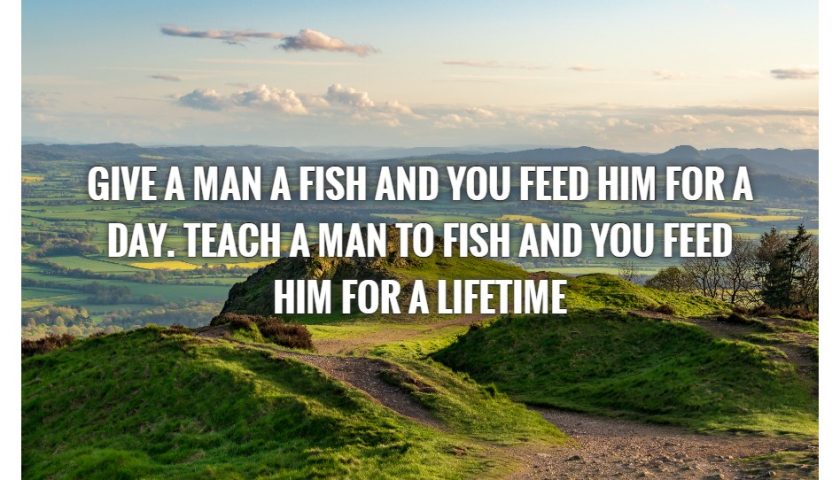 It is easy to say the national and local governments should take the action. However, they will not take action unless people proactively show what they want, and make the required changes in their own lives. This must be based on knowledge and a full understanding of why they should change their behaviour.
If people understand that houses must be built to an energy standard that will reduce carbon emissions, they will insist on that standard. They will then support changes in planning regulations that will enforce that type of construction.
When people understand that they must stop buying petrol or diesel vehicles, they will buy vehicles that will radically reduce carbon consumption, and create a demand for the infrastructure for electric vehicles.
Education will mean that the action to tackle climate change will be demand-led, and not supply-imposed.
Remember what President Kennedy said, "Ask not what your country can do for you – ask what you can do for your country."
THE SIZE OF THE PROBLEM
Today each household in Shropshire consumes harmful gases which add up to around 16 Tes of Carbon Dioxide equivalent. The following diagram illustrates the situation for the Shropshire Council area (17.6 tes per annum)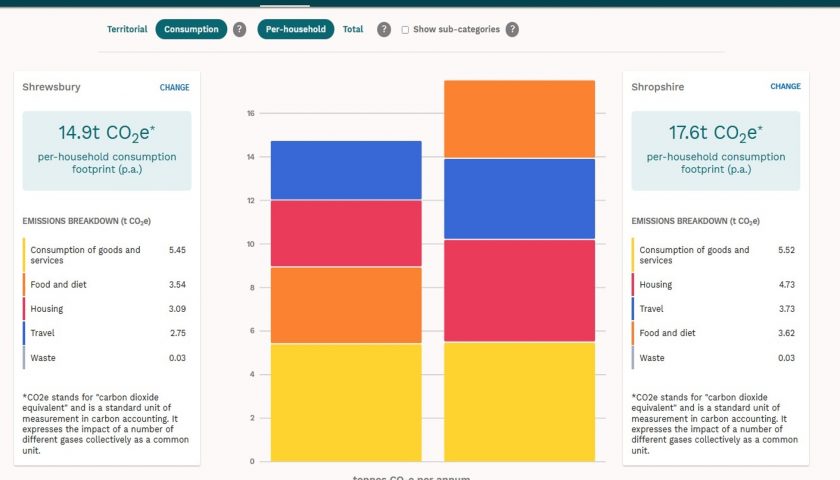 The following similar chart illustrates the data for the Telford and Wrekin council area (15.2 tes per annum):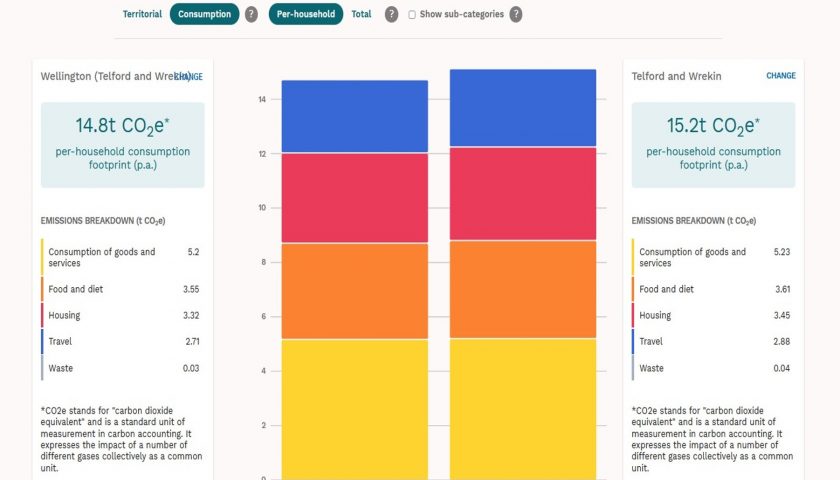 We need to get to Net Zero by 2030 in Shropshire, to meet international goals for climate control. Our courses explain why, and what you can do about it. Come to our courses to find out how.