BE COSY AND SAVE MONEY
You can take action as a householder by looking at the insulation levels and overall emissions of carbon from your home. The following picture simply illustrates the main areas to investigate.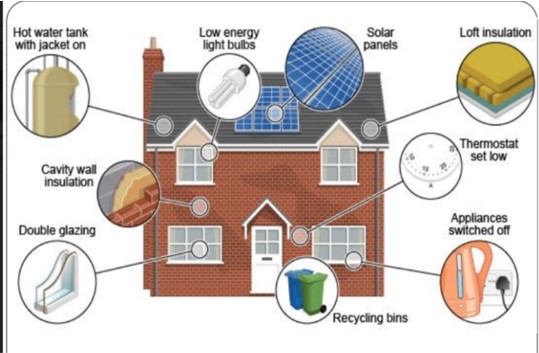 The Energy page on our website covers saving carbon consumption and energy through low-energy light bulbs, solar panels, and changing your energy supplier. Click on the following:
INSULATION
If you want to reduce carbon emissions and keep energy bills low, installing insulation or draught-proofing will reduce heat loss.
There are many simple yet effective ways to insulate your home, which can significantly reduce heat loss while lowering your heating bills. Even little fixes around the home can mount up to significant savings in your energy bills. For example, fitting your hot water cylinder with an insulating jacket will save you £18 a year in heating costs and 110kg of carbon dioxide emissions.
The average household wastes £250 a year by not being energy efficient. Poor insulation, inefficient appliances and bad habits can cost you money. Keep Shropshire Warm (KSW) is a free and impartial energy advice service, managed by Shrewsbury-based charity Marches Energy Agency, also supported by Shropshire Council:
KSW offers free and impartial advice on:
Grants and discounts to help finance energy efficiency measures
Help with energy tariffs, bills and suppliers
Heating and hot water help
Insulation improvements
Benefit entitlement checks to enable income maximisation
Helping residents assess whether an 'offer' is genuine – particularly in relation to door-knocking or cold calling!
Emergency funding for households in a 'no heat' situation due to broken heating systems
Council support grants
Click on the following button to get more details:
CAVITY WALL INSULATION
About a third of all the heat lost in an uninsulated home escapes through the walls. Properly insulating cavity walls will save energy and cut costs off your heating bill.
In general, houses built from the 1990s onwards have wall insulation to keep the heat in, but if your house is older than that, it may not have any wall insulation at all.
Houses in the UK mostly have either solid walls or cavity walls:
If your house was built after the 1920s, it is likely to have cavity walls. A cavity wall is made up of two walls with a gap in between, known as the cavity; the outer leaf is usually made of brick and the inner layer of brick or concrete block.
Pre-1920 older houses are more likely to have solid walls. A solid wall has no cavity; each wall is a single solid wall, usually made of brick or stone.
If you have cavity walls that have not been insulated, then it might make sense to have cavity wall insulation installed. To insulate your cavity walls, the installer drills small holes around 22mm in size at intervals of around 1m in the outside wall of your home. The installer then blows insulation into the cavity using special equipment. Once all the insulation is in, the installer fills the holes in the brickwork so you'll barely notice them.
See the Energy Saving website for more details on cavity wall insulation.
SOLID WALL INSULATION
If your home was built before the 1920s, its external walls are probably solid walls. Solid walls can be insulated though – either from the inside or the outside.
Typical installation costs* of solid wall insulation can vary as follows:
External wall insulation: around £10,000.
Internal wall insulation: around £8,200.
*Based on a typical 3-bedroom, semi-detached house in Great Britain
Further information is available from the Energy Saving Trust at the following website:
ROOF AND LOFT INSULATION
A quarter of heat is lost through the roof in an uninsulated home. Insulating your loft, attic or flat roof is an effective way to reduce heat loss and reduce your heating bills.
Installed correctly, loft insulation should pay for itself many times over in its 40-year lifetime.
If your loft is easy to access, it should be easy to insulate – and in many cases, it is possible to do it yourself.
If access is easy and your loft joists are regular, you can use rolls of mineral wool insulation. The first layer is laid between the joists – the horizontal beams that make up the floor of the loft – then another layer is laid at right angles to cover the joists and make the insulation up to the required depth.
Again you can get detailed advice from the Energy Saving Trust
WINDOWS AND DOORS
Making your doors, windows and conservatory more energy efficient will reduce your energy bills and lower your carbon footprint. Find out how to reduce the amount of heat lost and how to find a reputable installer.
Energy efficient glazing covers both double and triple glazing. These are windows with two or more glass panes in a sealed unit. You can also improve your home's energy efficiency by installing secondary glazing, or even by using heavy curtains. Having energy-efficient windows could help reduce your carbon footprint and energy bills.
Energy-efficient windows come in a range of frame materials and styles. The energy performance of a window depends on how well these materials stop heat from passing through, as well as how much sunlight travels through the glass and how little air can leak around the window.
Energy efficient windows are made of two or three glass panes sealed in a single unit, surrounded by a frame made from uPVC, wood, or another material.
 Double-glazed windows have two sheets of glass with a gap in between, usually about 16mm.
 Triple-glazed windows have three sheets of glass and two gaps. This can make them better at insulating than many double-glazed windows, but it's not always the case.
The gaps between the glass panes are filled with air or an inert gas such as argon. The air or gas is completely sealed.
Find out more detail at the Energy Agency
PASSIVE HOUSES
There are even more radical approaches to building houses from scratch. Designers and remodelers with the aim of building green are going passive. A passive house is completely airtight with energy-efficient insulation, multi-paned windows and a Heat Recovery System. The result is a home that requires little or no energy input to control the indoor climate throughout most of the year. It can reduce the heat requirements by 90 %.
Here, Hans-Jörn Eich of Pinwheel Builds explains the basics and benefits of passive house design in a 90-second video.
A £2m passive house residential scheme was handed over to residents in Shropshire in October 2018.. The mix of one, two and three-bedroom homes in Callaughtons Ash, Much Wenlock, comprises ten homes for social rental and two in shared ownership. The development aims to sit comfortably in its rural surroundings, complemented by a natural palette of UK-sourced materials. This includes clay roof tiles that have been quarried and made within 25 miles of the site, lime render provided by a local company and the UK-grown thermally modified hardwood cladding.
RETROFITTING HOMES
There is sometimes a need to take a radical approach to "retrofitting" homes by completely changing the home's structure because it does not have adequate insulation. This can be acute with social housing. The following video illustrates the approach that "Energiesprong" take.