This page shows groups in Shropshire that are engaged in helping organisations, councils, and householders to undertake activities that will help reduce our carbon footprints.
South Shropshire Climate Action

South Shropshire Climate Action (SSCA) is a coalition of local organisations and networks concerned about the climate and ecological crisis. They appreciate that achieving net zero by 2030 is ambitious, requiring resources and commitments from national and international agencies far beyond our ability to influence. However, SSCA in conjunction with Shropshire Council, Zero Carbon Shropshire and the Church of England have all adopted 2030 as the date because more urgent action is required than is being achieved by the government's commitment to achieve net zero by 2050.
Mossy Life

Mossy. Life is your go-to place for all things local and sustainable within Shropshire. From Telford & Wrekin, Shropshire Hills in the south, Oswestry in the North and everywhere in between. It is a green shopping directory.
Everyday decisions you make can have a massive impact on this planet. So make your next decision easy, support a sustainable local Shropshire business when you next eat out, go shopping, or even book a staycation. You can help this beautiful county thrive and minimise your impact on planet Earth.
Big Solar Co-op and Sharenergy

The Big Solar Co-op is a UK-wide solar co-op run by many community groups working together dedicated to helping organisations install Solar Panels, supported by funding provided through the Big Solar Co-op. So, a member might be part of their local site-finding group and a national group specialising in one aspect of project delivery – for example, PV research or co-op governance.
A large-scale approach brings many benefits. With increased purchasing power and a standard approach, community solar can be viable under more challenging commercial conditions without subsidies. It gives us the extra impetus we need to get over a higher bar. Volunteers can also use their time more productively doing what suits their skill sets and experience – whether that is scrutinising accounts, booking meeting venues, or updating a website.
Marches Energy Agency
In Shropshire, we are lucky to have a dedicated charity – Marches Energy Agency – which provides households in Shropshire with incredible support in ensuring they have excellent access to advice and help with their agency. 
In addition to alleviating the stress of Shropshire residents currently living in fuel poverty, Marches Energy Agency (MEA) provide advice on eligibility for grants that provide fully funded insulation and heating improvements, home energy checks and can install free energy-saving measures. MEA are committed to long-term change and improvement for communities living in fuel poverty and the promotion of energy efficiency for homes in Shropshire. 
They have also developed a project – Future Ready Homes – which can help you make your house more "Fit For the Planet". It starts with a free energy assessment, which could give you a healthier, warmer home, lower energy bills, and cut carbon emissions by making your home more energy efficient. click on the button to go to their website, which will answer your questions.
Get further information about the Marches Energy Agency by clicking on the following button:
A Good Thing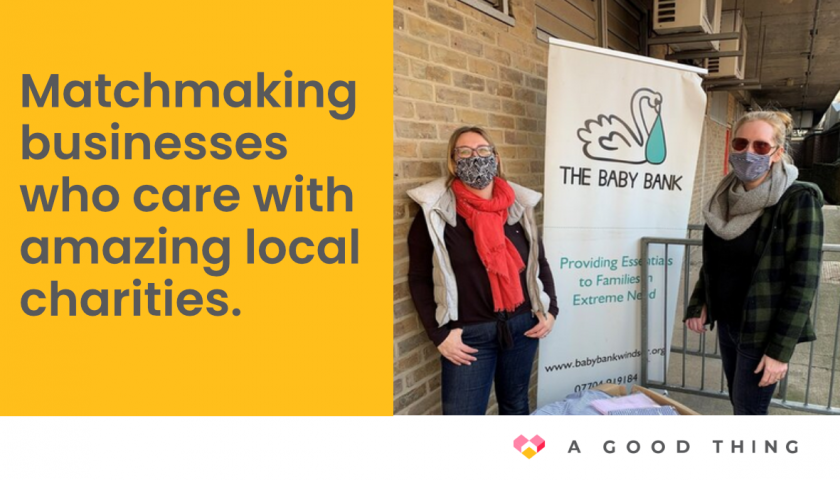 A Good Thing CIC, matchmake schools and businesses who care with amazing local charities. We make it easy for schools and businesses to donate unwanted items to local charities via our free-to-use app. Together Let's send less to landfills and more to a good cause.
The idea is simple. A school has something to spare… Anything from a used laptop, furniture, a theatre set that's no longer needed or equipment that is no longer used. A local charity has a need… They have the ideas and dedication but need the resources to make it happen. We make the match! All are using our simple web app, it takes minutes to sign up and list a local offer. Click on the button below.