EDUCATION…
The core of our activity is education. The whole area of climate change is a mystery to many, just like French, German or Spanish. But once people get to understand and speak some or a lot of a foreign language, they feel confident to talk and act in the foreign language.
Our minds are very complex, and once we have established habits that govern our daily lives, it is very difficult to alter them. It is simpler to follow a familiar action, rather than try something new.
People need to go through a process in which they unlearn their current ways of living, learn and become familiar with new ways of living, and finally find that the new habits are not so bad after all. That is why we provide "education".
Carbon Literacy Project
We have partnered with the "Carbon Literacy Project" (CLP). The CLP are committed to helping people develop training material and training documentation. They also award learners with a "Carbon Literacy" certificate when they have attended an approved course, answered questions on climate change and made pledges that they will adopt to reduce their and their group's carbon footprint.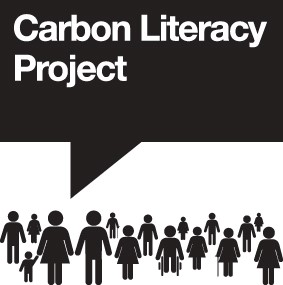 Its mission is "Create an awareness of the carbon dioxide costs and impacts of everyday activities, and the ability and motivation to reduce emissions, on an individual, community and organisational basis." Find out more by clicking on the button:
Save Our Shropshire Courses
We have developed two courses for Householders and Councils based on the Carbon Literacy Project toolkits. You can become "Carbon Literacy certified" if you attend these and successfully apply for Carbon Literacy certification. We have also partnered with Lorent Training to provide a course for businesses.
1. HOUSEHOLDERS/GENERAL COURSE
We have a course aimed at householders, focusing on what householders and their members can do to achieve net-zero by 2030. It covers the science, and the actions you can take, and then encourages you to make individual and group pledges, which can lead you to become certified as carbon literate by CLP, following their assessment. You can see details and book by clicking on this button:
2. PARISH/TOWN COUNCILS COURSE
Based on the Carbon Literacy Project's toolkit we have developed a course aimed at helping Town and Parish councils understand why there is an emergency, the financial and non-financial benefits of taking action, and best practices elsewhere. Parish councils will then be able to provide the leadership for householders to change. Those who attend can also become "Carbon Literacy certified" if they successfully complete the Carbon Literacy Project assessment.
Sneak Preview
We presented at COP26 in November a "sneak preview" of the workshop to around 40 delegates across the United Kingdom, alongside other pioneers. You can see a recording of the presentation here, the introduction to a breakout, along with a brief summary by our chair Allan Wilson of the conclusions of one of the workgroups. Click on the button COP26, and you will start with the presentation by Allan Wilson Go then to around 36 minutes, and you will get a flavour of what we are about and a preview of the workshop.
To see the detailed agenda and content of the workshop, and then to book on the course please click on the button below – Councils.
3. SMALL TO MEDIUM ENTERPRISE (SME) BUSINESS COURSE
In Shropshire, there are many Small to Medium size businesses, that will be subject to requirements to come up with a "Zero-Carbon" strategy in their relationships with bigger customers. The government is also encouraging SMEs to commit to carbon reduction. Thus they said in May 2021 "We're asking you to take the first step on your journey, by committing to cutting those carbon emissions in half by 2030 and to reach 'net zero' by 2050.
We have partnered with Lorent Training, which provides courses based on the Carbon Literacy project materials and will give you plenty of ideas on becoming net-zero. Lorent training provides training through public sessions or tailored in-house courses. Successful delegates will get certification by the Carbon Literacy Project.
You can see more details and book by clicking on the following button:
PARTNERS
We work with partners in helping to develop and deliver transformative education.
Centre for Alternative Technology.
CAT is based in Machynlleth in Mid-Wales. Its welsh name is Canolfan y Dechnoleg Amgen – another language!
CAT is an educational charity dedicated to researching and communicating positive solutions for environmental change. They speak to government and campaigners about policies that would help create a zero-carbon Britain; they train students in all aspects of sustainability; they help schoolchildren to understand the importance of action on climate change, and they advise householders on what they can do in their own homes. They run a series of courses. Click on the following button to find out more:
Speak Carbon Collective
Speak Carbon is a collective of a number of trainers and developers, which runs online courses for individuals, local authorities, universities and other organisations on the challenges we face through climate change. They are Carbon Literacy Project certified so that they can provide individuals with CLP certificates. Click on the following button to find out more:
Lorent Training
Lorent Training, specializes in training for very small companies and SMEs. Christiane introduces herself in the following video.