ACTIVE TRAVEL
The sustainable travel hierarchy is a useful tool to help you think about improving the impact of your journeys. The higher up the hierarchy, the more sustainable and greener the travel option. The most sustainable option is walking where the only resource required is you, followed by cycling which requires some equipment. Along with wheeling (the term used for wheelchair users), these methods are classed as active travel.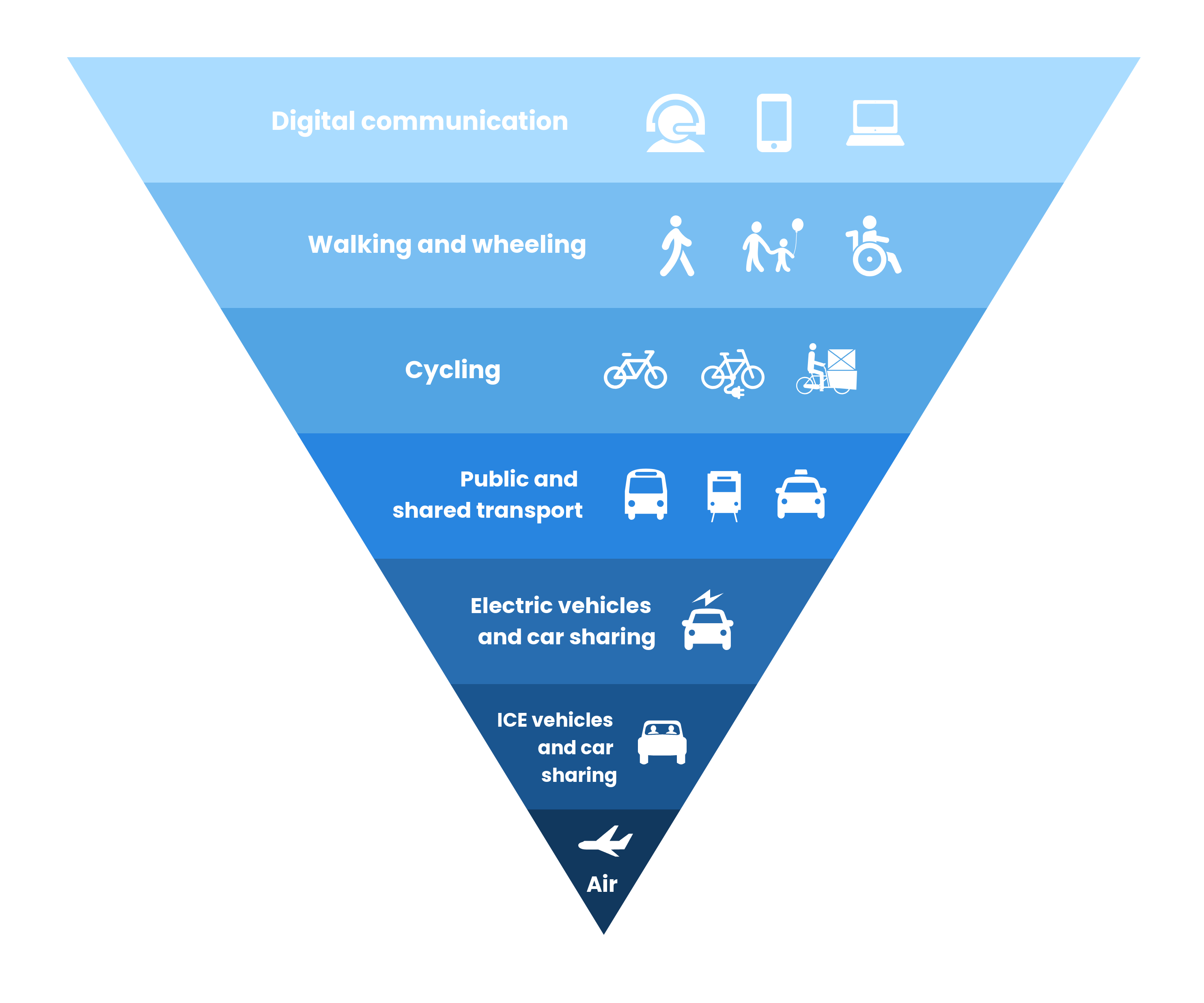 BICYCLES
Cycling is a zero carbon form of transport and 70 times more energy efficient than the average car. Pedal power!
Cycling builds muscle and is linked to improved heart and lung capacity.
In towns and cities, cycling can save time as you filter through the traffic and avoid the queues.
The UK Government has allocated £2 billion toward walking and cycling infrastructure, meaning cycling routes and accessibility are expected to improve.
If you are looking to purchase a bike or cargo bike, why not look in your area for community groups offering reconditioned bikes to save your carbon footprint even further. Alternatively, you may wish to purchase a bike via your employer's 'Cycle to work' scheme.
Funding may be available to help you get your neglected bike back on the road. Look at the Fix your bike voucher scheme available in England or Scotland's Cycle repair scheme
GO ELECTRIC
If you need some assistance with your cycling, why not go electric? Ebikes and ecargo bikes have an electric motor and battery to help you cover longer journeys more easily than on a conventional cycle. Ebikes and ecargo bikes have grown in popularity in recent years, it's likely you have seen them in your local area and not noticed the difference.
Ebikes and ecargo bikes:
Are ideal for anyone who might find cycling physically challenging – ebikes are 22% less physically demanding than regular bikes, but still allows the rider to be active.
Provide between 25–100 miles of pedalling enhancement on a single charge.
Give you an extra boost to cover those long journeys or big hills.
Emit 144 times less CO2 per mile than the average petrol or diesel car (recharging battery)
CARS – SWITCH TO ELECTRIC OR HYBRID
Today we use our cars freely for short or long journeys. Most cars are powered today by either petrol or diesel. The alternative is either to use a "Hybrid Car", which uses a mixture of carbon fuels and electricity, or a "pure" Electric Vehicle (EV). The major constraints on EVs are the availability of charging points and the distance which they can travel on one charge (between 200 and 250 miles). But the cost comparisons between a petrol car and an EV as provided by Thatcham Research show that the total cost per mile is cheaper for an EV.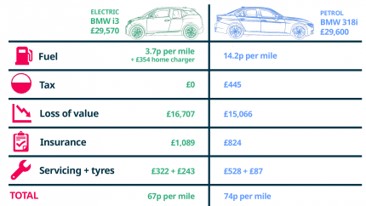 Source: Thatcham Research, KeeResources & manufacturer data. i3 cost includes government grant
BUYING A NEW CAR?
If you are thinking of buying an electric vehicle, then this site can help you compare electric vehicles so you can find the model that's right for you. it allows you to search by different types like Small Family or Large Family car, and gives details on range of journey, time o charge the car, and the CO2 emissions for the vehicle.
Note: if viewing on a mobile device please swipe left to see the full table.
PLANES VERSUS TRAINS
Planes are especially high contributors to the output of Carbon Dioxide and other greenhouse gases. They also cause problems with the gases they emit at high altitudes. People often think that travelling in Europe is much faster if you travel by plane. But in fact, with delays in security and passport control, the difference may not be so great. But when you look at the impact of train v plane in terms of carbon emissions, it must make sense to use the train more often. The following table compares: