Five attendees at our September Householders course have gained certification by the Carbon Literacy Project that they are carbon literate. To do that they attended one days worth of training, answered questions on their knowledge of the climate emergency and made pledges on actions to tackle climate change. Congratulations to all of them.
Carbon Literacy Project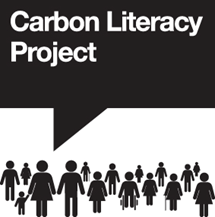 The Carbon Literacy Project offers everyone a day's worth of Carbon Literacy learning, covering – climate change, carbon footprints, how you can do your bit, and why it's relevant to you and your audience.
The Carbon Literacy Project is globally unique – there is nothing else quite like it anywhere. It was recognised as such by the UN at COP21, in Paris, where it was awarded as a TAP100, one of 100 worldwide Transformative Action Programs.
Carbon Literacy Project Certificate
Here is an example of the certificate that you could get. Do book on our householders course, if you want practical guidance on how to take action to beat the climate emergency.