Save Our Shropshire CIO is delighted to announce that eleven parish and town councillors and three others have received Carbon Literacy certification in a brand new workshop through the Carbon Literacy Project.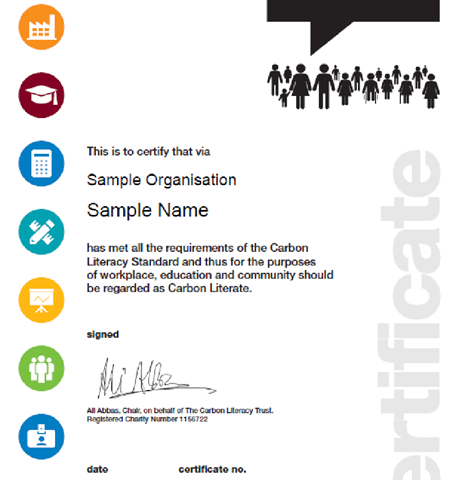 We partnered up with the Carbon Literacy Project (CLP) and Speak Carbon to create a brand new "Parish and Town Councillors" workshop, which provided a days' worth of training. This training covers the basic science, the horrendous consequences locally and globally if we do not take action and ideas on how we can all act to "Save Our Shropshire". The CLP provides a certificate at the end, demonstrating that the learner has understood the scope of the Climate Emergency and has pledged two actions. One is in their personal lives, and one is for their group, both of which will significantly reduce their Carbon Footprint.
Thus, one person stated in this course, " I am committing to increasing my active travel locally by increasing the amount I walk and purchasing an electric cycle. I will also use both of these methods to commute to work. In addition, when undertaking longer journeys, I am looking to increase the number of times I use public transport as opposed to my car." That is a significant commitment. Transport is around 20 % of our current carbon footprint, through the inefficient use of vehicles, which use dangerous fossil fuels. There are approximately 200,000 cars in Shropshire, but still less than 1,000 electric vehicles.
Another delegate said, "We will push the use of LED lighting through the parish, and engage with the local energy and power distribution companies to donate LED lights to encourage their use". Ordinary lighting uses up too much electricity, which itself comes from fossil fuel resources. Using LED lights is a simple way of reducing electricity consumption, saving money and the planet.