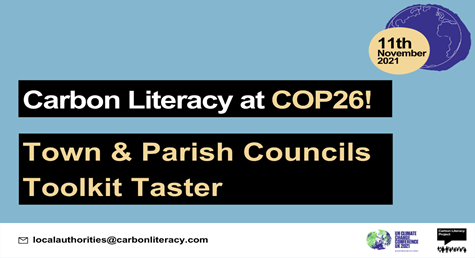 We are presenting at COP 26 a one-hour taster for our new Parish Council Workshop.
If you are interested, then do Zoom over to COP 26 and get a real taster of a new one day-workshop to help you organise to take pragmatic action on the Climate Emergency.
The workshop will help you formulate plans, engage the community, and mobilise the change you can influence. It will enable you to accelerate activity with the help of your colleagues.
The workshop is based on a tailored Toolkit developed by the Carbon Literacy Project, which brings together best practise for parish and town councils in tackling the Climate Emergency. It will give you new thinking on how to engage the community in Shropshire, and get behaviours to change.
When: Thursday November 11th 2:00PM GMT for only one hour.
Agenda
– Why the Carbon Literacy Project have developed a focussed Toolkit
– Why Carbon Literacy is vital for Parish and Town Councils
– Direct experience from SOS CIO piloting the Toolkit and how it helps Parish and Town Councils
– An interactive taster workshop from the Toolkit
– Next steps that you can take
– How to register interest in the course.
– Q & A
If you are interested in attending this event, please register in advance by clicking this button
Please feel free to circulate this information and invite others you think may be interested.